What video Character am I?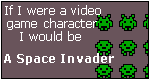 I am a Space-invader. I will happily recruit the help of friends to aid me in getting what I want. I have no tolerance for people getting in my way, and I am completely relentless until any threats or opposition are removed. I try to be down-to-earth, but something always seems to get in the way. What Video Game Character Are You?
Ehhhhhhhh.........chale.No imaginaba ser asi.Pero bueno,ya que lo dicen,/voz alien on/Llevenme con su lider o los desintegrare a todos/voz alien off.En el segundo test tampoco me ha ido particularmente bello: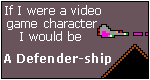 I am a Defender-ship. I am fiercely protective of my friends and loved ones, and unforgiving of any who would hurt them. Speed and foresight are my strengths, at the cost of a little clumsiness. I'm most comfortable with a few friends, but sometimes particularly enjoy spending time in larger groups. What Video Game Character Are You?
Via
ColdWind
En un test salí como el atacante,y en otra como el defensor.Y ademas,porque se repiten las naves espaciales?? Por cierto(hablando de tunas,mi higado...)
Axel esta de vuelta
.Y nos mostrara un nuevo diseño dentro de poco.A mi me encanta el diseño que tiene ahorita,me parece original,sintetico,y muy representativo de lo que debe de ser un blog,con poco uso de Java o AJAX, y solo unos pequeños efectos en el menu.Bonito,como la cancion de Jarabe de Palo,ahora esperemos que se supere(ta dificil,cumpa).